Vulnerability
Today, I am returning to my beautiful college Furman University to give two talks, one about my research in the lab and another in a "cultural life program (CLP)".  Furman students are required to go to CLPs (in my time it was 4 per year) to expand their horizons.  I find it a bit ironic that I am able to expand their horizons but I can.  In preparing for the CLP talk, I was reflecting on how much I have changed and my life has changed since I left Furman 16 years (!) ago.  Much of the resilience that I build comes from stepping into vulnerability.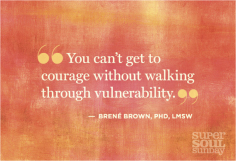 I was vulnerable when I:  went to the high powered research environment at Emory for graduate school after the amazing but small scale liberal arts education I received at Furman; married my best friend from graduate schoool; lost my dad, my father-in-law, my mom, my grandmother and 2 aunts in the last 16 years; went I was the first person to move out of the beautiful-endearing-sweetness of the South to NYC; took a job at Yale; had two kids when scientists "aren't" supposed to have families.  And those are the big things. 
I really step into vulnerability every day.
From Brene Brown's work on shame in her ted talks and books and discussing this work in my coaching sessions with Jen Grace Baron, I have learned that my growth and my joy in my personal and professional life requires vulnerability.  I will talk more about the lessons I have learned and how I am applying this to my life in science etc in future posts. 
For today, I am excited about being vulnerable as I reflect on the changes that have occurred in me and my life over the last few years and as I reconnect with mentors and connect with students and Furman folks today.