Be the change
Our world seems to be at an interesting moment in history.  On the one hand college campuses across the country are dealing with issues of sexual harrassment at all levels from undergraduates to faculty and on the other we have unrest over whether the justice system is adequate for "justice" in the deaths of several unarmed black youth.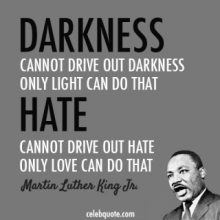 My perspective on these issues is influenced by several experiences:
1.  I have had two experiences as a minority: 1) the middle school and high school that I attended were 80% black in Stone Mountain, GA and 2) biology faculty are 70% male at the jr faculty level and reduces with promotion.
2.  This semester I have taught over 170 of Yale's fresh(wo)men and sophomores in the Foundations in cell biology course and gotten to know many of them as amazingly bright and driven ~20 year olds.
3.  I am a mother my job is to prepare my two daughters to be functional in this world.
These experiences have taught me that we have much work to do.  Its time for our country to reassess our policies and support for minorities and women.  We need better role models in the media (from cartoons to sitcoms to movies) that help reset implicit bias.  We all need awareness that emotional, distracted or pressured situations are situations when implicit bias rears its head.
Today, several of my undergraduate students will walk out of my classroom at 12:01, the time that Michael Brown died, as a part of the Hands Up Walk Out national movement.  I am glad that these students are being the change we need in in this world.  I hope I can also make a difference.